6 Stellar Ways to Promote Your Online Store in 2019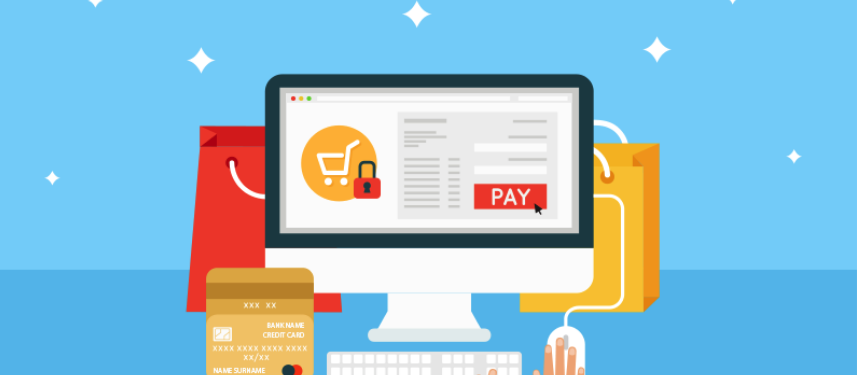 Setting up an eCommerce store can be stressful, especially when your thoughts turn to towards making it a profitable business.
Achieving such credentials takes time and a lot of hard work. The execution of a well-planned strategy doesn't happen overnight, or does it?
Unfortunately, 99% of the time – no.
But there are plenty of tactics you can implement to help promote your online store and make an impact on your target audience.
So, without further ado, here are 6 ways to promote your eCommerce store in 2019.
1. Content Marketing
Essentially, blogging is the most cost-effective way to promote your eCommerce store, but it's something that many store owners exclude from their promotional activity. Blogging is a marketing tool that can be used as a platform for your business to work from, a place where you can sell your enthusiasm to large numbers of people. What's more, it's a way of spreading the word about your products and giving people the option to share it with their friends.
By establishing partnerships with bloggers and influencers, you can increase sales and grow a loyal fanbase.
This type of marketing is a driving force when it comes to promoting your products because of how seamlessly your posts can blend into another user's feed. And what's more, it gives you the ability to spread the word about your business without sounding like an annoying salesperson.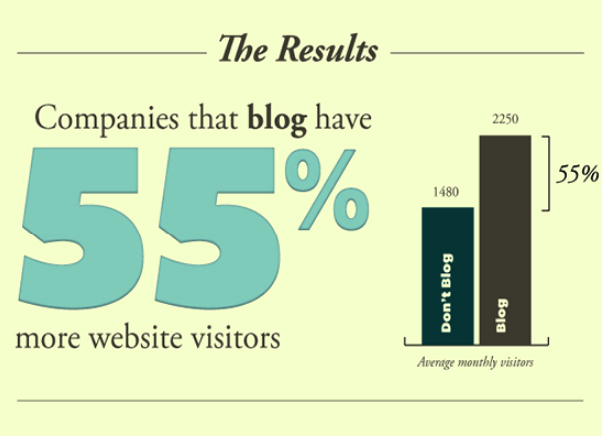 Now, I'm not saying you can write any poorly written literature and your store will be a success – as that would be easy. But when done correctly, your blog can help nurture customer relationships and generate regular traffic to your website.
When writing your blog posts, make sure the information you are writing is relevant to your products. It should also be interesting for your target audience to read, which is why conducting the necessary research beforehand is essential.
Finally, your content should be consistent.
2. Share User-Generated Content
Did you know, 92% of customers trust user-generated content more than traditional advertising.
User-generated content is content created by unpaid contributors. It's designed to connect shoppers from all around the world, using the brand as a middleman.
Typically, it includes pictures, videos, or blog posts and is usually created or uploaded online, where it can easily be shared.
The proof is in the pudding, as Flockler says that they've seen an increase in 20-30% conversion rates when user-generated content is displayed at the point of purchase.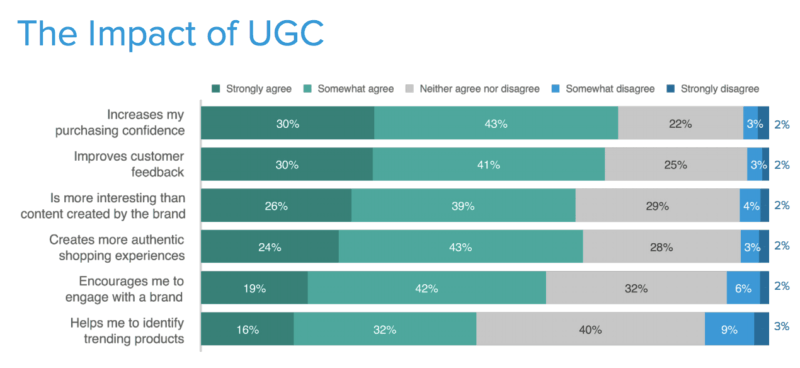 When done right, a user-generated content campaign can spark discussions.
Reposting the content shared by your customers can significantly increase your number of followers and build a genuine community around your brand. The social media management tool Buffer, has been using this tactic to great success – and in one year have increased their number of Instagram followers by 400%.
To achieve similar results, you can use the following tips as a guide:
Ask your customers for pictures or videos of them using the products
Create a unique #hashtag
Encourage your fans to share their stories relating to your products or brand
3. Social Media Contest
Social Media advertising is a tough nut to crack. Nevertheless, it can be one of the most rewarding ways to promote your online business.
Feast your eyes back when Sunny Co Clothing announced this promotion on their Instagram news feed.
This promo took off, and shortly after their original post, Sunny Co Clothing posted another message explaining that they reserve the right to cap the promotion if necessary.
Fast-forward 24 hours and Sunny Co Clothing's Instagram following had jumped from 7,000 to over 70,000 users. The response to this promotion was overwhelming, and it's a perfect example of how social media can be used to promote your eCommerce store.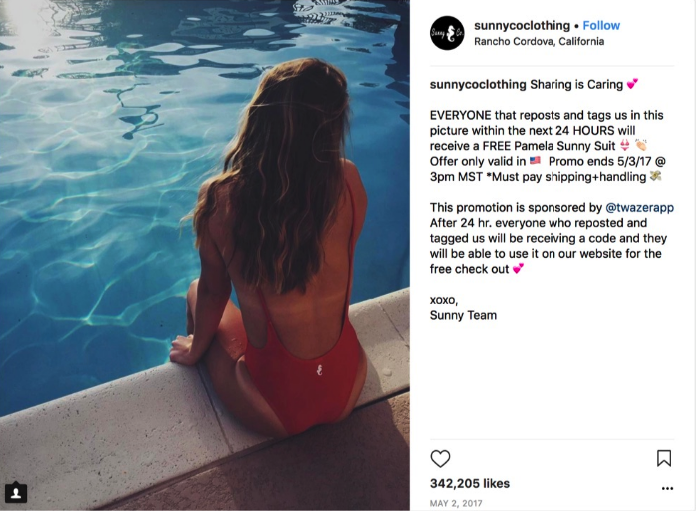 While I mentioned Instagram, it's not the only social media platform that you can use. When running a contest or promotion, stay true to your brand to see the real results.
A good way of doing this is by crafting individual posts for each of your social media channels. For example, if you're using Instagram to run a promotion, avoid including lots of text for your audience to read. Another example on Twitter would be to post short and catchy text to grab the reader's attention.
You should also state when you'll pick a winner and when they can expect to receive their reward. Underlining your expectations early on can avoid any confusion.
Think about the future, what's next once your contest or promotion has been successful?
4. Start Producing Product Videos
Almost 300 hours of video are uploaded to YouTube every minute, and over 10 billion videos are watched on SnapChat every day.
According to social media, internet video advertising is fast becoming the most popular product advertising method.
This doesn't come as a surprise, with video becoming easier to create and share.

Video allows you to engage with your audience in new ways. Uploading videos on social media and YouTube provide you with a link that can be shared by millions of people in a blog post or an email.
You can show off your products with demonstrations, give tutorials, or promote new products using excellent customer reviews. What's more, with the new technology in mobile devices, you no longer need tonnes of bulky equipment to record your videos.
To be honest, social media platforms make it more acceptable to interact with your audience and build relationships through a video you filmed on your smartphone.
Furthermore, products demonstrations allow the shopper to view the product from a new perspective. Watching your products being used can help encourage the user into making a more educated purchase.
With the addition of live videos on platforms such as Instagram and Facebook, this feature allows you to connect with your customers on a regular basis and give your viewers a behind-the-scenes look.
5. Email marketing
Don't shy away from email marketing, it's one of the most rewarding ways to promote your eCommerce store.
Studies show that email marketing can help generate more sales than both Facebook and Twitter. On average, every dollar a business spends on email marketing, they're able to generate $40 in sales.
So, regardless of what some people think, email marketing is still one of the most reliable ways to generate business.
However, in order to get the most out of email marketing, you must go beyond just sending emails. Understanding the importance of adding a personal touch is important when crafting the ideal newsletter. Your approach needs to be tailored to your target audience and grab the reader's attention.
Personalised newsletters are one of the most effective forms of email marketing.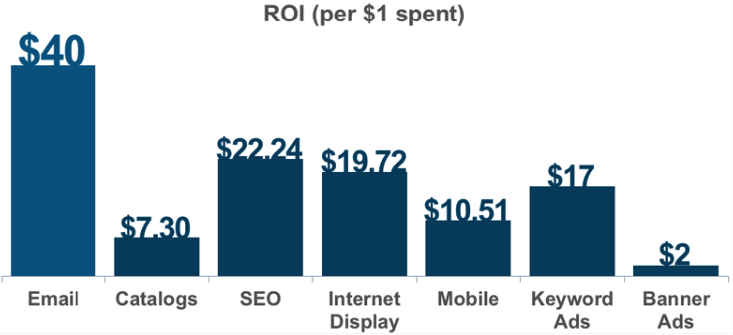 Newsletters give you the option to send out regular emails to the list of subscribers in your database. Ideally, aim to send out weekly newsletters so that your customers can take advantage of any special offers or sales items.
Always have a major call to action per email!
Remember to keep your newsletter short, clear, and concise. The aim is not to hard sell your products, but to give them a gentle nudge towards the shopper. Short emails are also important because of the number of people that will be reading them on a mobile device. If you feel the need to include more information – use bullet points to break up the text.
By using the power of personalisation, you are effectively increasing your chances of securing a sale.
If you have access to the customers first name, use it! Oh, and make the most of the subject line.
Tip: always include a direct link to your store in each of your emails too.
6. Hold a popup shop
Just because your store started off online, it doesn't mean it has to stay that way.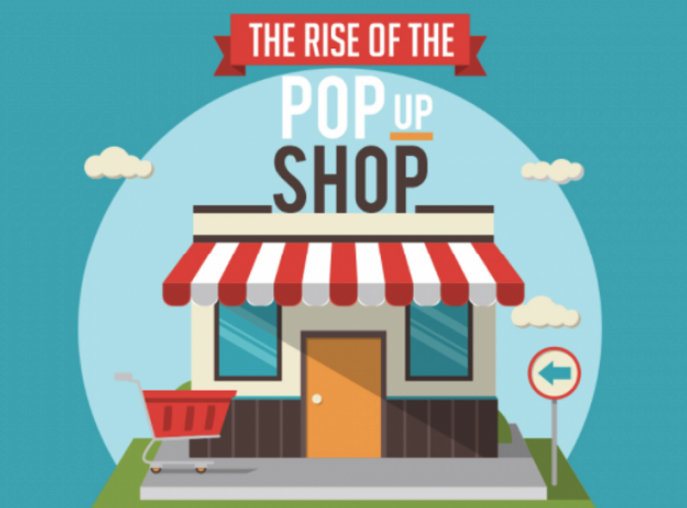 For many online shoppers, not being able to see the product before purchasing it can be a pain point. Therefore, pop-up shops are a great idea for online businesses. Not only do they give the customer a chance to test the products, but they provide you with prime information on how shoppers react when doing so.
The low-cost and temporary nature of a pop-up shop gives brands the opportunity to test products and promotions. You can also use your shop to hand out coupons and collect social media followers and email subscribers, too.
We all know that generating a buzz around your brand is important, and this is one of the primary benefits of a pop-up shop. However, like most physical shops – the whereabouts of your pop-up shop is key. Prior to planning the location for your pop-up shop, you should think about where your target audience will be situated.
Wherever you decide, make sure it's clearly visible and has enough surrounding space to occupy people. Choosing a place where people gather such as a shopping centre, art fair, market, or gallery will improve your chances of attracting customers.
For some ideas, Business Insider has compiled a list of eighteen creative pop-up shop ideas.
Conclusion
If you're the proud owner of an eCommerce store and you're looking for ideas on how to promote your eCommerce store, these are six stellar tactics that should help your business grow.
Hopefully, after reading this blog post, you have a clear understanding of how to promote your eCommerce online store. With the right approach, the strategies listed above will help boost your sales.
And remember, rather than trying to push your products underneath the noses of your customers, use social media to build genuine relationships and introduce them to your products gently.
Think beyond the normal product page and sales pitch. Use product videos to demonstrate how brilliant your products are.
What tactics have worked for you when it comes to improving your online sales? Please comment below.
Author
Craig Randall
Craig has been working as a print designer for over 15 years. He specialises in working with leading publishing houses to develop fun, colourful and engaging multi-activity children books. He's worked with clients such as Nickelodeon, Cartoon Network, Warner Brothers, Star Wars and Marvel. Craig likes to spend time away in the country to relax and reflect upon the landscape.