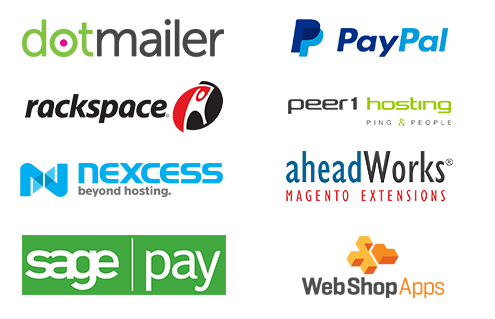 How We Work With Industry Partners
Over the years, R & W Media have formed a solid relationship with trusted partners, who we turn to to supplement our internal expertise to ensure we are offering our valued customers the best possible service and guidance. These partners are industry leaders and solution specialists in the eCommerce field. We are very proud to announce R & W Media are official authorised partners of major solution providers.
What Does An Authorised Industry Partner Mean?
We have an established partnership with these solution providers and they have identified us as an expert in our field. The benefits of being an authorised partner include:
Established trust with providers
Experienced in implementing their software solution with Magento
Seamless integration with their software/platform
Work directly with their account managers
Prioritised technical support so we can turn around integration more quickly
Exclusive access to their software and platform and any new releases
Technology Platforms

Magento
Magento is the ultimate eCommerce platform, it has been responsible for powering thousands of eCommerce websites, including well known leading brands. As our chosen eCommerce platform, we work solely with Magento and, with our years of experience working with it, you know you are in safe hands.

WordPress
WordPress is the most popular CMS platform on the planet with over 78 million sites on the web currently powered by it. With its advanced, rich features and ability to work alongside Magento, WordPress is always our chosen CMS platform.
Our Payment Gateway Partners
R & W Media has worked with over 20 different payment gateway providers around the world. We have component knowledge in this area, ensuring secure payment transactions are implemented on your eCommerce store.
Take a look at the payment gateway solution providers we are official partners of:

Sage Pay
Sage Pay is a highly recommended payment gateway provider in securely accepting payments online within the UK.

Worldpay
Worldpay provides secure payment services for small and large businesses to accept a multitude of payment types.

Secure Trading
Secure Trading offers a reliable and secure internet payment gateway and is fully Level 1 PCI DDS compliant.
PayPal
PayPal is a worldwide online payment system, allowing merchants and buyers to easily pay and transfer money securely online.

Realex Payments
Realex Payments is one of Europe's largest and fastest growing online payment gateways.

Optimal Payments / NetBanx
Optimal Payments is a global payment provider for processing credit cards and alternative payment methods online.
Our Magento Hosting Partners
Over the years, we have worked with the biggest and best Magento Platinum Hosting Partners in the country in order to provide you with secure and reliable hosting solutions with high uptime availability.

UKFast
UKFast is a high-performance UK hosting company and provides PCI DSS compliant hosting solutions for Magento and WordPress websites.

Rackspace
Rackspace provides managed cloud and dedicated hosting and provides highly optimised environments for Magento.
Business Applications
At R & W Media, we have expert technical skills to integrate your online store with your business applications; from ERPs to business management software, to stock control applications.

Sap
Sap is a multinational software that makes enterprise software in order to manage business operations and customer relations.

Microsoft Dynamics
Microsoft Dynamics is a global enterprise resource planner solution for businesses to control their finance and operations.

Orderwise
Orderwise provides businesses with their stock control software with order management, accounts integration, and website integration.

Brightpearl
Brightpearl is a cloud-based software for merchants in order to control and monitor their entire business through one system.

Linnworks
Linnworks allow channel integration, order management, stock control, and powerful tools for merchants.

Volo (eSellerPro)
Volo (previously eSellerPro) allows merchants to sell through a multichannel and provide inventory and stock control software.

Veeqo
Veeqo is an online based inventory and order management software and provides multichannel selling support.
Our Magento Technlogy Partners
We work closely with best Magento Technology Partners in the world to provide you with powerful features that help extend your online store and deliver a better experience for you and your customers.

WebShopApps
WebShopApps offers extensive features for calculating shipping rates for your online store.

Aheadworks
Aheadworks provides a large range of powerful extensions and plugins for the Magento platform.

Ebizmarts
Ebizmarts are a platinum partner of Sage Pay and provide the ultimate integration between Sage Pay and Magento.

MageWorx
MageWorx tools are designed to enhance and improve the shopping experience for Magento.

M2E Pro
M2E Pro fully integrates Magento with eBay, Amazon, and Rakuten marketplaces around the world.
Our Email Marketing Partners
Email marketing is a big part of eCommerce and customer interaction. We work closely with only the best email marketing solution providers that offer automated triggered emails.

DotMailer
DotMailer is leaders in email marketing automation for enterprise companies. Designed to be used for marketers.

MailChimp
MailChimp is used by over 7 million people, allows you to create, send and track email campaigns.

Remarkety
Remarkety is an eCommerce email marketing software to help recover cart abandonment, wakeup inactive customers, make recommendations and more.
Our Live Chat Partners
Customer service is incredibly important, especially in the online market. Providing direct answers and real-time support is crucial, which is why we partnered with major live chat providers to help our clients interact with their customers directly.

LiveChat
LiveChat provides tools to communicate with customers online in real time, including reporting tools and ticketing system.

Zopim
Zopim is an award-winning live chat software solution. Chat with visitors in real time and provide proactive support.