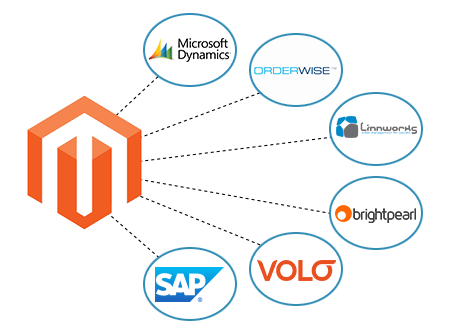 Magento Integration with Business Office Solutions
Having a well-functioning Magento eCommerce store is crucial, however allowing it to speak to your internal business software is vital to your business success.
At R & W Media, we provide integration services for enterprise solutions. We have a strong technical background that allows us to tailor the integration process to your exact requirements. We have worked with and integrated the following extensive business applications with Magento:
Microsoft Dynamics Nav
SAP
Brightpearl
Orderwise
Linnworks
Volo (eSellerPro)
Sage
CRM
ERP
EPoS
And more
With our integration services, we can automatically synchronise your customers, products, pricing rules, and orders with your back office application seamlessly to help your business run more efficiently and reduce operational costs.
Benefits Of Seamless Integration
The benefits of a seamless automated integration include:
Order Management – sales orders will be imported into your business application
Customer management – customers will be automatically imported into a centralised location
Catalog inventory management – synchronised stock inventory and full catalogue of products in Magento with your business software
Sale prices and discounts – create special pricing within Magento, synchronised with your business management software
We partner with leading firms to provide stable and secure implementation, many of which are cloud-based software to bridge the gap between your online and offline operations.
Get in touch, to discuss your next integration project.