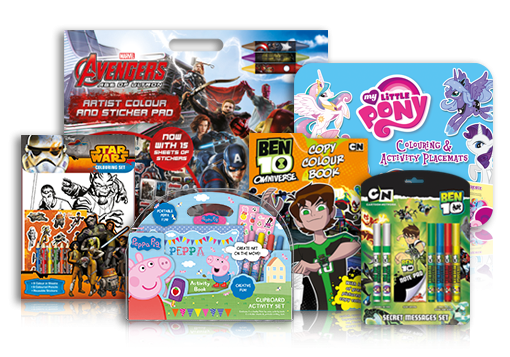 Licensed product design
We have many years of experience under our belt working in the publishing and packaging industry.
Licensed design is awesome! We LOVE working on licensed children's publishing products, which includes the likes of colouring and activity books, story books, novelty books and many more. Not only do we get a privileged peek into the present and future brands, we also get to unleash our inner child as we work on fantastic projects from Disney, Marvel, DC, Cartoon Network, Nickelodeon and many more. Needless to say, we have terrific fun along the way.
What we offer is a full design and development service, from the initial concept stage through to realising that vision in stunning design.
Depending on what the client wants, we can create artwork from scratch, or/and we can work from a licensor style guide, or/and we can even take existing artwork or brought in material and resize. Whatever you need, we can do.
Our tools of the trade are the use of industry-standard Adobe Creative Suite (Illustrator, Photoshop and Indesign) when designing.

Process
To better understand the process involved, we have outlined some very simple steps:
Step 1: The Briefing Stage
We begin any project with a brief. We discuss with our client the specifics of a project – number of pages, measurements etc as well as the 'look and feel' the client wants to achieve. Some clients have certain requirements that need to be met, such as targeting a specific age range, or maybe they have a specific cutter guide or file set up in mind.
Step 2: The Design Stage
We go away and start developing and designing the product. Communication throughout is very important as we regularly keep the client informed of the progress made. Some clients want page by page visuals to approve, some others are happy to let us complete the initial design first before making comments. Regardless, we go back and forth until the client is 100% happy.
Step 3: The Approval Stage and Amends
With licensed products it is a contract requirement that the licensor approves anything before proceeding to print/mass production, so everything has to be sent for an approval before files are sent to the factory.
Any amends from the licensor needs to be taken in to account and carried out. We carry out all amends until the licensor approves the project and the client is happy.
Step 4: Ready For Mass-production
So now the client is happy, the licensor has signed off the approval, we're now ready to send the factory-ready files to get the product made.
We supply our factory-ready files to our client by means of acceptable well-known file-sharing software, such as Dropbox.